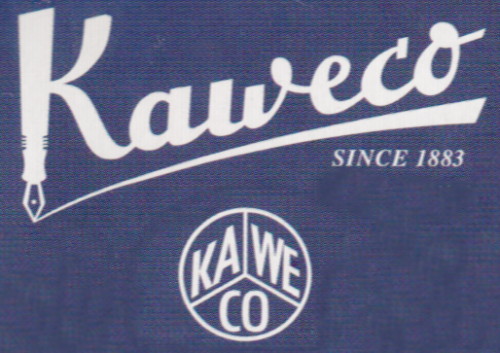 Kaweco entered production in 1883, although not yet under that name.  They first existed as Heidelberger Federhalterfabrik, and engaged in the manufacture of dip pens and holders.  Fountain pen production began in 1892, importing points and producing the usual hard rubber eyedropper pens of the time.
The name came about with the purchase of Heidelberger Federhalterfabrik in 1899 by a couple of fellows named Heinrich Koch and Rudolph Weber.  It continued under its original name for some years, apparently not changing fully changing to Koch, Weber & Co. until 1921.  However, during that period the name Kaweco (following the German pronunciation of the initials K and W) began to appear in advertising, and in 1926 the name was officially changed to Kaweco Heidelberger Federhalterfabrik.  Also during this period, the company began producing pens under licence for the US company Morton, and in 1913 bought the machinery outright to apply to their own production.
Kaweco was not evidently greatly harmed by the First World War, although there is a somewhat cryptic mention on the company's website of adding the production of shovel-hafts to their output.  After the war, though, problems did develop.  The proliferation of pen companies seen in other nations was also present in Germany, and indeed some of them were being set up by people who had learned their trade under Kaweco's roof.  In addition to this, as new materials appeared on the market, they appear to have resisted adopting them; this is a similar attitude to the one adopted by Waterman in the same decade, but in the economic environment of Germany in the grip of the Versailles Treaty it was not an attitude which could be sustained.  Kaweco went into bankruptcy in 1929.
The company was bought up by one of its competitors, Knust, Woringen and Grube, who for reasons which do not appear thought it wise to maintain the name while doing away with most of the previous model line-up.   Celluloid models and more up-to-date filling mechanisms were used, and Kaweco enjoyed as much success as was possible in the 1930s in Germany.  During the Second World War, production fell off dramatically, and exigencies such as glass points and removal of most of the familiar hardware (like clips) were resorted to.
Production resumed in a small way in 1945, with only a couple of models initially available.  This was gradually increased until a fairly complete line appeared in 1950.  This was, of course, a rough time to be rebuilding a fountain pen company, and it may fairly be said that Kaweco never quite recovered from its war wounds.  There was a certain amount of keeping up to be seen, as in the introduction of models with hooded points, cartridge-filling and even ballpoints in the early 1960s, but precious little innovation.  A promotional tie-in with the 1972 Olympics may have helped the balance sheet a little (tainted as that event was), but in 1981 Kaweco suffered its second and somewhat more lasting bankruptcy.
In 1995, the brand was bought by H & M Gutberlet, a company established in 1960 for making the parts of writing instruments and which branched out in the late 1980s into cosmetics.  This is possibly the earliest of the modern wave of resurrections.  Kaweco has remained in production since this resurrection, with a reasonably broad and mainly affordable range of models, although they do occasionally indulge in limited editions.
Models I've examined:
Alphabetically
By Date

 1911 – 1929, 1935 – 1981, 1993 – present
2010 (?) – present