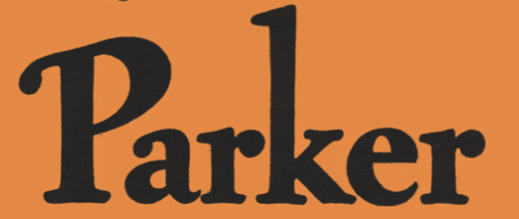 In some ways, the history of the Parker company is the history of fountain pens themselves, at least up to a certain point.  Parker is one of the great manufacturers of pens, and one of the few that people with a high degree of indifference will recognize the name of.
The company was founded in 1888 by George Safford Parker, in Janesville, Wisconsin.  Like so many pen company founders, he had previously been an agent for a pre-existing pen maker; in this case, he had been working for the John Holland company, and the legend of the foundation holds that he was so overwhelmed by ideas for the improvement of their product that he was driven to set up his own operation.
The first pens produced by the company were eyedroppers, and they received various patents for improvements to that creature.  The most notable of these was probably for the "Lucky Curve" feed in 1894, so named because it reached out around the end of the section to touch the barrel in such a way that capillary action would remove ink from it and (theoretically) reduce dribbling by a flooded feed.  This feed remained in use with some amendments until about 1928.
Another of Parker's innovations was the button filler, for which they got a patent in 1905 and which was put into production in 1913.  Like Sheaffer's lever, it was widely copied by other companies, and remained an available mechanism in Parker pens until the 1950s.
Like many other makers, Parker became in international operation, probably in equal parts to reduce shipping costs and to avoid protectionist trade laws.  The first plant outside the  US was opened in 1923 in Toronto, Ontario, providing Parker with access not just to Canada but to the British Commonwealth.  Production, either in Parker-owned plants or under licence, later occured in Denmark, England, China, Argentina, Australia, South Africa, France, Mexico, Brazil, Germany, Pakistan, and India (roughly in that order).  In terms of empires upon which the sun never set, Parker did pretty well for themselves.
In 1933, George Parker retired; this is frequently attributed to depression resulting from the death of his son Russell, but as he was 70 years old it may simply have been submission to the forces of time.  His grandson Kenneth took over the company.
Use of a blue diamond as a mark of quality began in 1940, there had been a star appearing on clips for a couple of years previously, but this was also being used by Waterman, if not other makers, and Parker settled on the azure lozenge as both visible and unique.
In 1941, Parker entered a licencing agreement with the Valentine Pen Company of Newhaven in England.  This was likely to overcome problems of shipping pens to made in Toronto, since not only were the ships stuffed with war materiel with little room left over for pens but they ran a serious chance of being sunk.  This led to the puchace of Valentine by Parker at the end of the war, giving the company a seat in the UK which would be of some significance later.
1941 was also the year that Parker released its somewhat paradigm-altering "51".
The end of the war saw a bit of a fragmentation in Parker's production; while the head office in Wisconsin was still in charge, one saw distinct local variants emerging.  Modern collectors just getting started can face occasional surprises when they discover that, for example, the Vacumatic which officially ceased production in 1948 can be found with 1953 date codes, or that the shape of a Duofold can depend very much on where it was made.
Parker's first foray into the no-longer-new field of ballpoint pens came in 1954, with the release of the Jotter.  I mention this only because it is another example, like the Lucky Curve feed or the "51", of Parker getting something profoundly right and not having to do much with it subsequently; the Jotter has been in production with very little amendment ever since.
The 1960s, a decade with a lot of uproar for pen makers, saw some substantial shenanigans at Parker, both positive and negative.  1960 saw Kenneth Parker's retirement, which removed all Parkers from the company's board.  The same year saw Parker's first cartridge pen released, a consequence of the company's purchase two years earlier of Eversharp.  In 1962, they recieved a Royal Warrant from Queen Elizabeth II, which in made them the sole supplier of pens to the Royal Household (as of 2011, it still shows up here, but as you read on you may wonder whether it might have been recently rescinded).  The same year saw the introduction of the VP, which had some interesting technical aspects which were mostly overshadowed by a horribly flimsy filling system.
The latter part of the 1970s saw Parker setting itself up for an eventual fall.  Diversifying out of pens, they bought up a catalogue-based clothing outfitters in 1973 (and sold it in 1981), a temp agency in 1976 (and sold it in 1986), and spun off an specialized parts maker in 1982.  In 1987, the management of the UK division bought out the company, an act which relocated the head offices to Newhaven.  This move saw a few golden years of concentration on pens once more, culminating in the 1993 buyout by Gillette, who handed it on to Newell-Rubbermaid in 2000.  It is a matter of light debate which of these acquisitions saw the start of a real slide in quality control.  Rumour holds that Newell-Rubbermaid, who also owns Waterman, is intent on removing competition between these two marques by relaying Waterman as the prestige brand and Parker as a more mid-market entity.
In 2009, the plants in Newhaven and Janesville were closed, with production moving to France (that is to say, the Waterman plant) and China, depending upon the quality of the pen in question.
I have a brief summary of the frequently-useful date codes Parker has used.  You may, if you're unsure about what model of Parker you've got, want to have a look at the Parker family album.
Models I've examined (you may wonder why some of the model numbers are in quotation marks; so do I, but it's something Parker did for years, starting with the "51"):