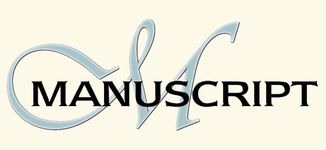 I will admit to being a little jumbled on the history of this particular company.  If I'm putting together the information from various sources correctly, Manuscript is a  newly-generated sub-brand of the D. Leonardt company.  The latter has been in business since 1856, making steel dip pens and other somewhat fiddly bits of metal, so when I refer to 1990 as "newly-generated" I speak advisedly.  Manuscript is mainly devoted to calligraphy products, offering fountain, dip and felt pens all with italic points (as well as some rather flexible dip points), as well as ink in both fountain pen and dip-only flavours.  I commend them highly on the packaging of the inks, as the two types come in bottles of radically different shape, minimizing the likelihood of confusion.
I discover that since I first came in contact with this maker, they have also introduced a line of regular writing pens.  In their catalogues, they describe only one of the six models as a school pen, but the colour selections suggest they are aiming at a mainly youth market with all but one of them.  That's perfectly all right with me, of course; the more vectors in the world for rendering fountain pens as "normal" with the next generation there are, the better.
As an interesting point of cross-pollenation, the initial offering of the Italix brand of pens was a housing to support the works of Manuscript fountain pens in a somewhat more elegant manner.
Models I've examined:
| | |
| --- | --- |
| Alphabetically | By Date |
|  Italic Pen (model name unknown, that's what was on the package) | |