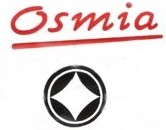 Osmia was established in 1919 by Herman Böhler, after jumping ship from Kaweco to go into business with his brother Georg.  The name of the company, like Osmiroid's, is taken from the use of osmium in the tipping as an alternative to iridium; dispite the coincidental similarity to Linnaean taxonomy, they have nothing to do with bees.
After a brief legal tussle with Mont Blanc over logo shape, Osmia appears to have quite a good initial showing; the were, for a time, the second largest producer of pens in Germany. This appears to have moved them to over-extend themselves in the creation of facilities, and by 1928 they found themselves leaning to some extent on Parker, who were at the time looking for means of entry into foreign markets; whether it was a partnership or a purchase is a little murky.  Whatever form it took, the arrangement with Parker only lasted until about 1930; Duofolds were not, it seems, popular in Germany.  After a couple of more years in the hands of the Böhler brothers Osmia was bought in 1932 by Degussa, a precious metals company which was already a supplier of materials to pen manufacturers.
in 1935, Faber-Castell took over a majority interest in the company and operated it in part as the production facility for their own pens and in part as a separate entity.  This relationship persisted through the Second World War, with Faber-Castell buying increasing interest in Osmia until 1951 when the latter was entirely owned by the former.  Osmia continued to have an individual existence through the 1950s, but in the 1960s was gradually subsumed by Faber-Castell and the use of its name and logo appear to have been wrapped up well before Faber-Castell began its hiatus from fountain pen manufacture in 1975.
Models I've examined:
| | |
| --- | --- |
| Alphabetically | By Date |
| | |